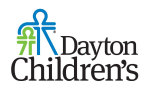 The former Dayton Children's Hospital employee intranet was not widely utilized, and information was not organized in a very intuitive way.

So, eyemg created an Intranet that became more of a tool and mouthpiece for the hospital to reinforce the direction in which they were going. The current Intranet (named FOCUS) is used by more than 2,000 employees.

eyemg created the design and interface, and also developed all of the custom applications that build out the interface. eyemg also handled the migration of many of the old pages of the Intranet into a solid, easy-to-understand outline.

eyemg performed two usability tests to make sure we were on the right track when it came to content naming and organization.
Services
Specification, Web Design